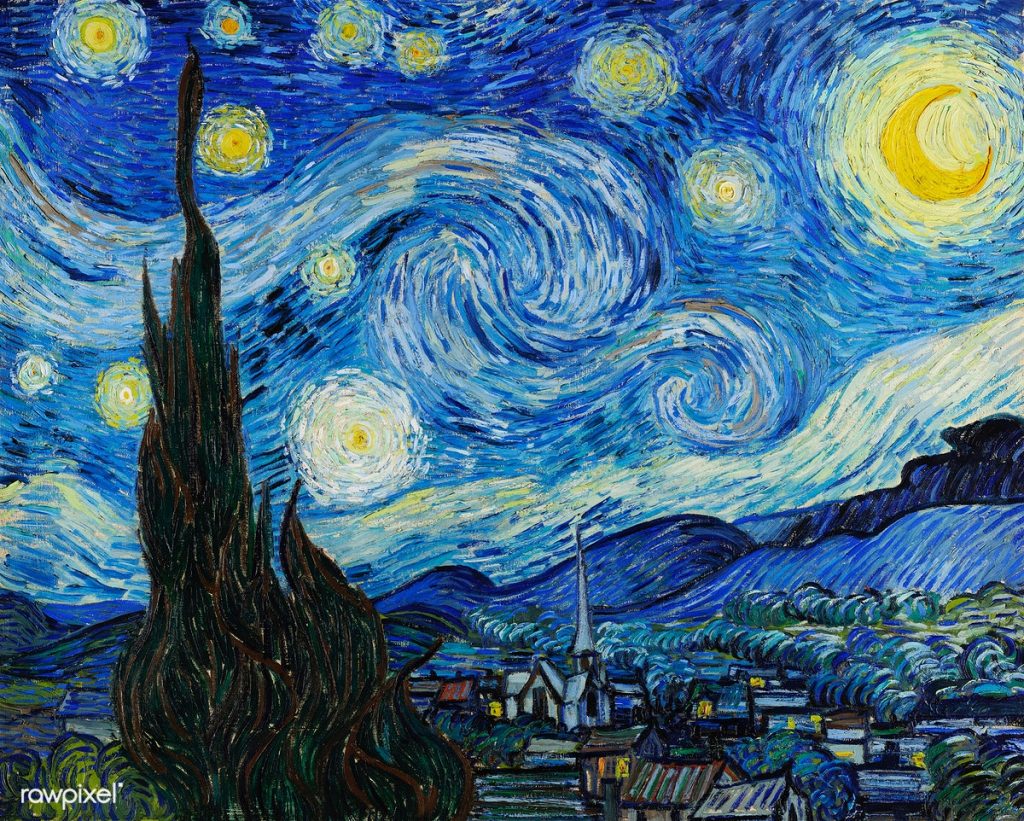 Learn about art: drawing, painting, and other mediums, as well as some history.
Click here for Arts & Crafts.
Art Arena – YouTube channel for beginners art. Pastels, Line Drawing, 3D Drawing.
Art For Kids Hub – has step-by-step videos to teach you everything you need to draw some amazing characters. They have a weekly art challenge. They have free and paid options.
Art Gallery of Ontario – Find resources and activities to help students build visual literacy and develop their skills in observation, interpretation, critical thinking and creativity.

Art History Kids – you need to sign up for their newsletter – it's free, and then explore all the great downloads (some free, some pay).
Art Institute of Chicago – Great for High School and College/University age. clicking on the Visit Online button lets you explore the collection, watch videos, and use educator resources.
Art Projects for Kids – some free.
Art with Matt – Facebook group. "a fun cartooning tutorial as I show you how to draw cartoon characters!" Presented in English and French.

Artrageous with Nate – "Creativity is everywhere- but who and where does it come from? I'm an artist and world traveler discovering creators, innovators, and artists from the past and today."
Artsology – using fun arts games as a way to introduce students to art and art history.
Bateman Foundation – "Our mission is to promote the preservation and sustainability of the environment. To achieve this goal, we maintain an art gallery to perpetuate, protect, enhance and promote the artistic and cultural legacy of nature-inspired artists, including Robert Bateman. We also support and develop educational programs relating to the environment and nature-inspired artists."

Chris Hart – another person who teaches how to draw. Cartoon characters to manga.
Color with Leo – colouring pages, art studio, and games.
CR2F – Watercolour Tutorials – perfect for any age.
Disney Drawings – "If you're looking for a fun, creative way to add some Disney magic to your day, we're sharing something special – a complete series of how-to tutorials on drawing Mickey Mouse through the years." Plus Daisy Duck, Olaf, Winnie the Pooh, Stitch, Jack Skellington, and many more!
Drawing Everyday with JJK – Children's book author and illustrator Jarrett Krosoczka (Lunch Lady book fame) has come up with a daily YouTube series.
Gardiner Museum – online exhibits, colour the museum, and family activities.

Guggenheim Museums and Foundation – at-home art class, guided virtual tours, art collections.
J. Paul Getty Center offers many free digital resources for exploration, study, and research via this website.
The Joy of Painting – Watch and paint along with Bob Ross and every episode of The Joy of Painting! Happy painting!
Happy Family Art– a variety of options: colouring pages art history lessons (artists), and other crafty things (jewelry, sewing).
Homer Watson House & Gallery – "celebrates the legacy of Homer Watson's creative spirit by stimulating the appreciation, enjoyment and practice of the visual arts." Stay-at-Home Camp, Virtual Tour.

Incredible Art – high school lessons
Kinder Art: Art History – "Students will look at the work of a particular artist (eg: Vincent Van Gogh, Paul Gauguin, Georgia O'Keeffe, David Milne, Leonardo da Vinci, Marc Chagall, Georges Seurat, Emily Carr, Henri Matisse), examining their style and the materials they used. Each student will then have the opportunity to create his or her own work in the style of the selected artist."
Masaaki Iwane – a Japanese animator (Pokemon). YouTube. It is in Japanese.
InterUrban ArtHouse – offering a FREE via live stream and designed to give us all a way to stay inspired and share a sense of community during these uncertain and isolating times.
The Isolation Museum – "Artifacts documenting self isolation during the COVID-19 pandemic."
Jarrett Lerner – is an author and comic book illustrator. Activities including blank comic book pages, character makers, etc..
Kinder Art – don't let the name scare you. They have art activities for all ages from crayons to zentangles and everything in between.

Louvre – virtual tours and Learning about Art (see last tab at top of page before Buy Your Ticket)
Lunch Doodles – Mo Willems, creator of Elephant & Piggie series, Knuffle Bunny, and the Pigeon series, is hosting his own little art lessons during this time off – 1pm Eastern Time weekdays. I just love Moe Willems' quote: "You might be isolated, but you're not alone. You are an art maker. Let's make some together."
Masterpiece Society – Sampler Art Course Available FOR A LIMITED TIME ONLY!
Mael Matthews – "Lockdown Art techniques and activities that can be done at home with limited materials and equipment. Mael Matthews is an Art teacher, examiner, author and artist." YouTube.
The McMichael Canadian Art Collection – "permanent collection consists of over 6,500 artworks by Tom Thomson, the Group of Seven, their contemporaries, and First Nations, Métis, Inuit and contemporary artists who have contributed to the development of Canadian art." For children 5 to 12 years, ArtVenture Online has art activities, videos, tutorials and more.

Metkids – Metropolitan Museum of Art for kids.
National Gallery of Canada – a collection of art, especially Canadian art, which opens the way for appreciation of the finest in artistic expression. Check out their video tours of various aspects of their outdoor spaces.

Ottawa Art Gallery – "fosters connections between artists and the diverse members of our broader community." Be sure to check out everything their Virtual Gallery has to offer.

Steve Porter, Artisit – YouTube channel. Drawing challenges for kids of all ages.
Dav Pilkey – "fun and free activities will be available online including how-to-draw demonstrations, engaging read-a-louds and inspiring resources from the Library's collections. Additional videos and content will be shared periodically throughout the week and will feature downloadable activities, conversations about books and creativity, and tips for kids and families to create their own characters and act out scenes from Pilkey's Dog Man book series."
Quarantine Art Club – Carson Ellis will "be posting art assignments here every weekday morning when I can. They'll be designed for kids and grownups alike. "
Shoo Rayner Drawing – Join Shoo Rayner, illustrator of over 300 children's books, for fun, chat, inspiration and ideas to help you learn to draw or improve your drawing style and technique through sketchbooking, watercolour and a simple ink line style.
Stop Motion Camp for Kids – Trisha Zemp created this Instagram camp for creating stop motion videos and is offering it free to kids of all ages.
Tate Kids – Art website for kids. Activities, games, videos, quizzes.
Wendy MacNaughton Drawing Class – 10am PST on Instagram. For kids, parents, and anyone who wants to draw and have fun.